The journey began 30 years ago on the 1st September 1990.
Ebersberg, a city near Munich, Bavaria welcomed its first biotech company that was then called MWG Biotech GmbH. In honour of the 30th anniversary of the Eurofins Genomics DNA campus in Ebersberg, let's take a brief walk down the genomics memory lane.
When MWG Biotech was founded by Michael Weichselgartner in 1990, the small company consisted of 5 to 10 highly-motivated employees who were excited to make an impact on the genomics market. The company was selling instruments to support molecular biology research.
In 1992, MWG Biotech started to provide custom oligonucleotide synthesis as a service for customers as one of the first suppliers in Europe. The price per base was approx. 5 DM (D-Mark is the former German currency and it equals around 4€ adjusted for inflation) and the maximal length of a synthesised oligo was 35 bases at that time. The major application of these oligos was as primers for PCR.
In 1994, MWG Biotech gained the exclusive rights to sell the LI-COR 4200 system for DNA sequencing in Europe. This became MWG Biotech's second business unit besides the synthesis of oligonucleotides.
1997 was the year when MWG Biotech developed and launched their own PCR machines called Primus.  Shortly after, this was complimented by MWG Biotech's proprietary RoboAmp 4200 high-throughput robotic system for automated DNA preparation. It was a great success.
In 1998, MWG biotech set out into the genome sequencing market as one of the world's most efficient and cost-attractive Sanger sequencing providers. By this time, MWG Biotech also produced more than 500,000 oligos a year, making it the world market leader in this field.
In 1999, MWG Biotech went public and became MWG Biotech AG.
In 2001, MWG Biotech AG held the core technologies for DNA synthesis, DNA sequencing, microarray services, genomic instruments and bioinformatics with production units in Ebersberg, Germany and Greensboro, NC, USA, as well as subsidiaries in UK, France, Italy and Scandinavia, and distributors in 35 countries.
In 2005, Eurofins Scientific SE became the major shareholder of MWG Biotech AG and brought the business to new heights by acquiring the DNA sequencing company Medigenomix in 2007 and the DNA synthesis company Operon in 2008.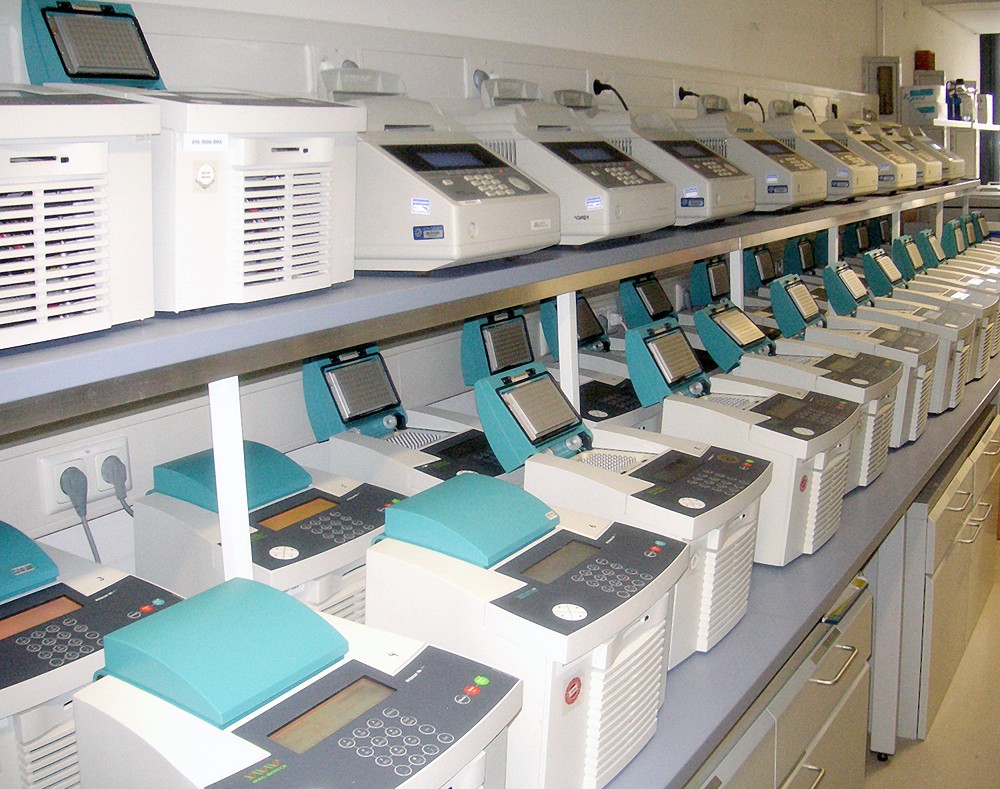 2009 marked the years when Medigenomix and Operon joined the DNA campus in Ebersberg to broaden the spectrum of the Eurofins Genomics DNA synthesis and DNA sequencing business units.
In 2011, the Austrian DNA synthesis and DNA sequencing company VBC Biotech that was founded in 1999 also joined Eurofins Genomics. Until now, the local subsidiary in Vienna is still operating and managed by the former owner of VBC Mag. Siegfried Schnabl.
In 2013/2014 the German gene synthesis company Entelechon (founded in 1999), and the Danish microarray company AROS (founded in 2000) also joined the Eurofins Genomics family.
2014 marked a breakthrough in terms of express DNA sequencing. With the establishment of the Sanger sequencing lab in Cologne as Eurofins Genomics branch in close proximity to the Cologne airport, customers all over Europe now received their Sanger sequencing results overnight.
2017 was the year when GATC Biotech AG (founded in 1990) joined Eurofins Genomics and, among others, enhanced the range of next-generation sequencing services even more.
2020 is the year of the SARS-CoV-2 pandemic. Eurofins contributes to the fight against the virus by establishing a COVID-19 test centre at the Eurofins Genomics DNA campus in Ebersberg. The SAFER@WORK™ Programme is initiated and provides much needed COVID-19 tests for people, surfaces, wastewater and products.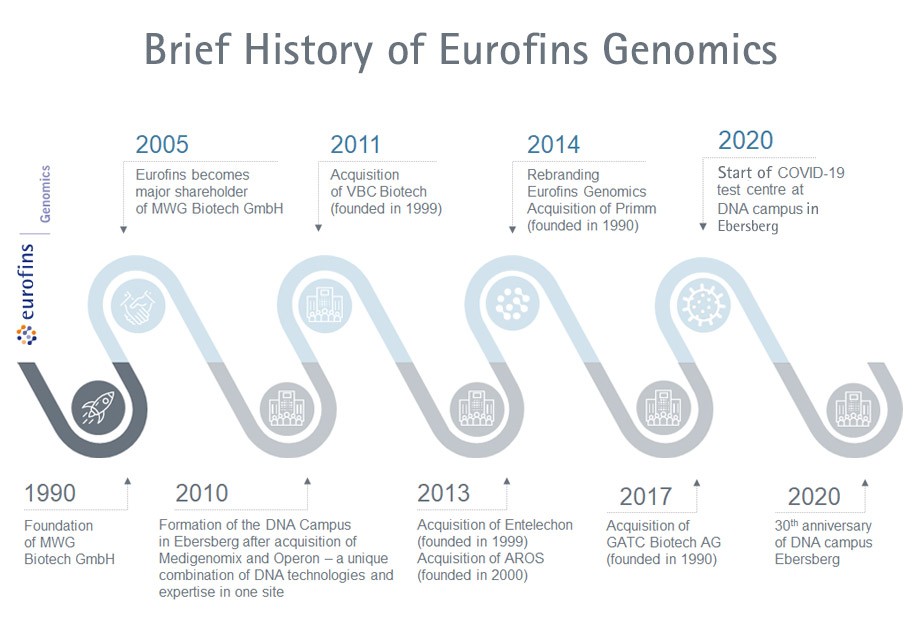 Since the founding of the site in Ebersberg 30 years ago, the range and quality of services and products has been increased steadily to the form the most comprehensive genomics product portfolio that provides our customers with the solutions they need: from oligos such as (q)PCR Primers, to DNA sequencing services such as Mix2Seq, NGS services such as exome sequencing, gene synthesis such as Express Genes and molecular biology applications such as synthetic sgRNA for CRISPR, and genotyping and gene expression services such as Mycoplasmacheck.
Did you like this article? Then subscribe to our Newsletter and we will keep you informed about our next blog posts. Subscribe to the Eurofins Genomics Newsletter.