Hi Stefan, welcome to the interview.
Thank you for inviting me.
How long have you been working at Eurofins Genomics?
Since August 1999. So, it has been almost 22 years.
At what position did you start 22 years ago? What was your job?
At that time, I started as a technical assistant in the lab for the production of modified oligonucleotides. We produced probes for qPCR for example (Taq Man, MGB Probes, etc.). There, I worked for about two years and then became a shift supervisor relatively quickly. In 2004, I became team leader for the modified oligo division and later team leader for the whole oligo synthesis section.
At that time, I also helped with the setup of the oligo lab in Cologne, where I was the team leader.
Since last year, I am the team leader for process engineering at Eurofins Genomics.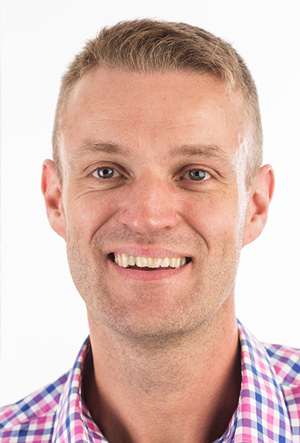 What is your education?
I did an apprenticeship as chemical laboratory assistant at the "Bayerischen Hauptversuchsanstalt" in Weihenstephan, Bavaria, and partly at the Technical University of Munich.
Now you are working in the field of process engineering. What exactly is process engineering?
It is primarily about re-examining existing processes, improving them by implementing changes that are required by the processes in the lab. Furthermore, it includes the improvement of technologies and the integration of new devices such as our new proprietary synthesiser technology that we use for the oligo synthesis. All in all, it is about simplifying and accelerating the processes in the lab. Naturally, lean management also plays a major role in my work.
Technology in general is of great interest to me. I like to work on devices and technology.
You must have a very good technical understanding for this kind of work.
Technology in general is of great interest to me. I like to work on devices and technology. This has always been the case throughout my entire career at Eurofins Genomics. Part of my job is to closely work with the engineering department at Eurofins that develops new devices and adapts existing systems to our processes. We think that continuous improvement is crucial and we take it seriously.
Let's talk about the oligo synthesis. For our customers, it is quite easy. They log in on our homepage, enter the sequence of the oligos they want and simply order them. But how does oligo synthesis work in the lab?
The customer's order is automatically transferred into our LIMS system and directly prepared for processing in the lab. The synthesis of standard primers, modified oligos, and so on, is basically a standard process and common practice. The technology that we use for oligo synthesis, however, is a proprietary process. It is our own development and highly important for the quality of our oligos.
The synthesis begins with a starting material, which is usually a CPG or polystyrene matrix.
What is the chemical process of the oligo synthesis?
The synthesis begins with a starting material, which is usually a CPG or polystyrene matrix. Here, the initial base (A, G, T or C) is bound to the surface. The first step of the synthesis process is the detrytilation of the protecting group of the initial base and is done with an acid. The trityl protecting group of the base is removed and thereby the initial base forms the coupling site for the next base. This step is called DMT cleavage and provides a trityl cation that is orange in colour. This way, it is easy to see that the reaction was successful; by turning orange of the solution.
Subsequently, the matrix is washed with a solvent to remove the trityl cation and acid. During the following step, an activator and the next base is added. The activator activates the base to couple with the already existing base.
Since the coupling efficiency is never at 100%, more like 99.9%, there remain some free bases where no second base has coupled. These free sites have to be capped with capping reagent so, no further reactions can take place at these sites. Otherwise, by-products would be generated.
As the last step, the unstable trivalent phosphite of the terminal base is oxidised to a much more stable phosphate.
These steps are repeated until the requested oligo is completed.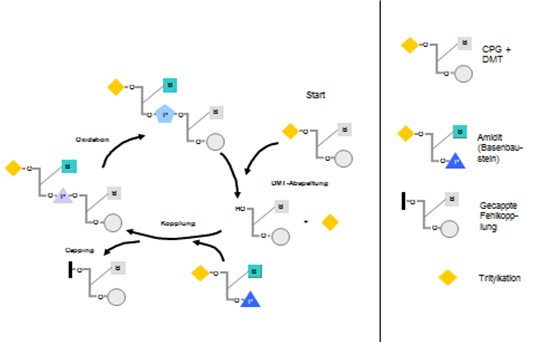 What are the differences when it comes to our NightXpress oligos that are synthesised much faster?
This is based on our new and optimised proprietary synthesis technology. The individual aforementioned cycles of the oligo synthesis are completed much faster.
What about the quality control of the oligos? What is done to ensure highest quality for the customers?
Every oligo that we synthesise is subject to stringent quality control and does not leave production without control. It starts with yield determination by optical density (OD) measurement, followed by MALDI-TOF analysis. The MALDI-TOF analysis shows the presence of potential oligos with termination sequences.
The quality guidelines are product-specific as certain products are used for certain applications. Therefore, they also need different quality guidelines. Nevertheless, these quality guidelines are very precise and standardised.
Quality control is done in-house at Eurofins Genomics, and is continuously validated and examined. At the customer's request, we also offer analytical HPLC analysis, and for very long oligos we use ESI LC-MS.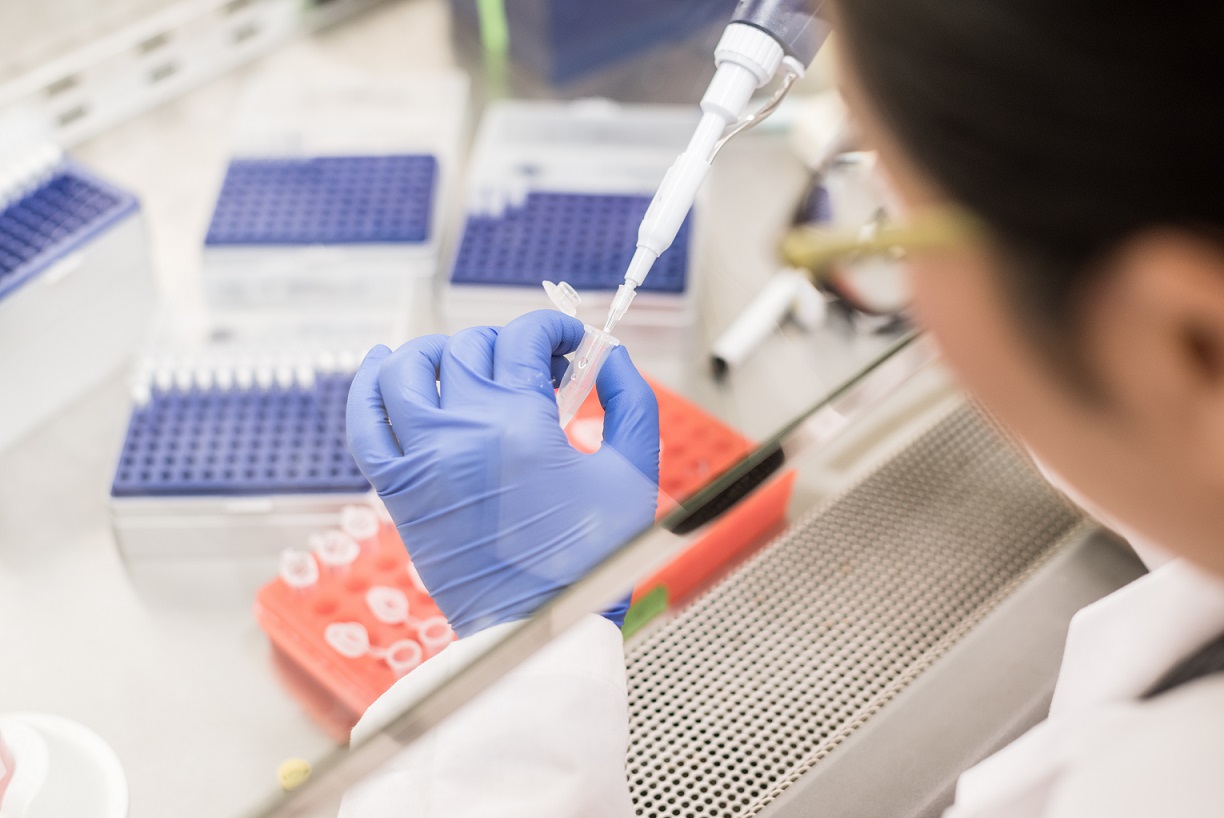 What is your motivation to work at Eurofins Genomics?
My main motivation is my interest in the subject of DNA and what you can do with it. I was interested in this since the start of my training. The field of oligo application is always changing. Something new is always being developed. New technologies are being developed again and again, and that always drove me. I don't like doing the same thing over and over again. That's not me. I always have to have something new and Eurofins Genomics offers many possibilities to adapt innovations.
How do you manage to stay calm and relaxed in stressful situations?
I haven't had any negative stress at work. It is always positive stress for me, and that makes a lot of things easier. But then, I can also finish work and switch off. I think it is important to cope with the demands of everyday business. Luckily, I've always been able to do that.
My background and understanding of lab work are also decisive when it comes to handling stress. I have a lab background and, as a manager now, can sympathise with my employees. I understand their work. Since my employees trust me, they come to me with their problems. I earned their trust by being honest and stating bluntly and directly, if something did not go as planned. In return, I also listen to their problems and stand up for my team. That is rewarded!
It is important to have an open mind, including openness to criticism.
What advice would you give people in a similar job position?
It is important to have an open mind, including openness to criticism, and at the same time to express your opinion. Open and clear communication is crucial.
What do you think is the future for Eurofins Genomics?
I could imagine that we produce therapeutic oligos in the future. I think there is great potential. More and more drugs will be based on oligos in the future; very effective drugs.
Let's talk a little more about you personally. How do you start your day?
My alarm goes off at 6 o'clock in the morning. I go to the kitchen and drink two espressos. Then I'm somewhat awake and I get ready for the day. After drinking my third espresso, I take the dog for a walk. Then I'm off to work.
How do you spend your free time?
In summer, I also do a lot work around the house and garden, like building a charging station for electric cars. In winter, there is a lot of cooking and baking.
Indian curries are my specialty.
Do you have a specialty in cooking?
Indian curries are my specialty. With lots of turmeric and ginger. I make the paste for the curries myself. Those are the most important ingredients. I had an Indian colleague with whom I cooked a lot and learned a lot about Indian cuisine. Real authentic Indian cuisine. It was great.
In terms of books, I like to read crime stories. It's relatively light reading and relaxing. But I recently started reading Obama's biography. I'm interested in that, too.
Thank you that you took the time for the interview.
Thank you. I enjoyed it.