'Doctors Without Borders' is an internationally operating organisation of independent medical humanitarians that provides medical aid for people who are affected by conflict and war, natural and man-made disasters, epidemics, or who simply do not have access to healthcare. With an astonishing 67,000 members that include thousands of healthcare professionals who are unified by the principles of assisting populations in distress irrespective of race, religion, or political opinion, they make a difference.
On the 17th October, Eurofins Genomics Europe's Senior Director Dr Michael Hadem visited the 'Doctors Without Borders' headquarter in Berlin to present the donation in the name of Eurofins Genomics Europe's customers.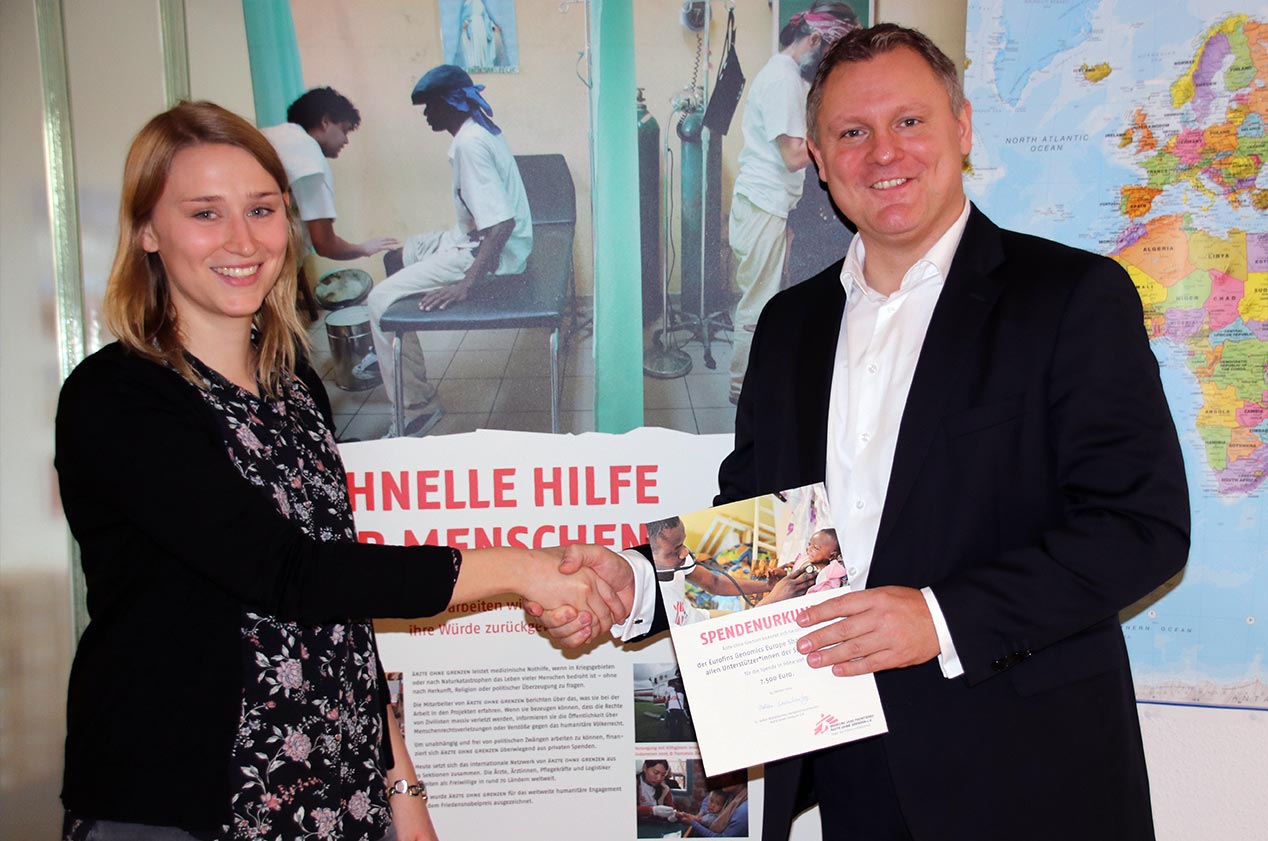 Image: Dr Michael Hadem (Senior Director Eurofins Genomics Europe) presents the donation to Lena Lindner in the 'Doctors Without Borders' HQ in Berlin.
With our customers' donation, 'Doctors Without Borders' will be able to provide different kinds of aid such as:
Ready-to-use therapeutic food for 340 acutely undernourished children for four weeks. That is how long it usually takes for these children to recover.
Clean drinking water for 468 people for a week. This includes all necessary materials such as water containers, pumps, taps, and chlorine.
Surgical instruments, dressing material and medication for 208 emergency patients.
Seven 45 sqm tents that will be used as hospitals.
We are happy to support 'Doctors Without Borders' principles of providing medical aid where it's needed most, as well as their global network that enables them to respond to emergencies worldwide in 70 countries.
Read here the official press release about the donation of Eurofins Genomics Europe's customers to 'Doctors Without Borders'.
If you feel to support humanitarian causes, consider donating to 'Doctors Without Borders'.
What organisations, projects, initiatives and social businesses would you like to see to be promoted and getting support?
Or would you like to see certain start-up ventures or NGOs getting support?
Are there other charities in your local community that you would like to bring attention and support to?
Leave a comment below or contact our Customer Support with your suggestions!