We are introducing the team! This edition introduces Linda Rilke and Anita Udiljah, who are technical assistants in the Oligonucleotide Quality Control and Shipping Team that is responsible to ensure the high quality standards and shipping of the synthesised oligonucleotides for our customers.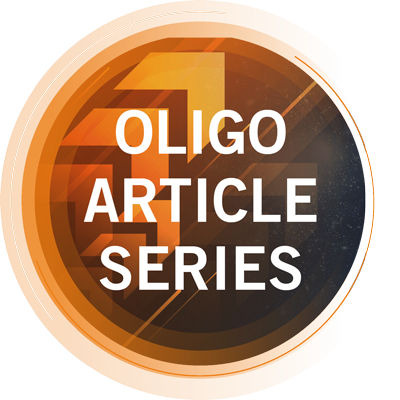 Hi Linda, hi Anita, welcome to the interview.
Please, tell us a little bit about you. How long have both of you been working for Eurofins Genomics?
Linda: I work for Eurofins Genomics since seven years.
Anita: I started working for Eurofins Genomics in 2004.
Have you been technicians in the lab since you started to work for Eurofins Genomics? 
Linda: Yes, we both have been lab technicians in the oligonucleotide synthesis lab since the beginning.
Anita: I am a state-certified chemical-technical assistant and I worked for a chemical company for two years before I started to work for Eurofins Genomics.
Linda: I had professional training as postal carrier. I came to Eurofins Genomics through my father, aunt and uncle, who worked at Eurofins Genomics at the time. My father still works here as a lab technician.

What are your responsibilities in the oligonucleotide synthesis lab? What is a typical day like?
Linda: We have a broad range of responsibilities. Essentially, we are responsible for the quality control and shipping of the synthesised oligonucleotides for our customers.
Anita: Our work day starts with the shift change and handover. Here, all members of the lab meet and we discuss if adjustments to our processes need to be done. Since we are working a three-shift operation, this shift change and handover is crucial. However, most of the time, it is done fairly quickly.
Linda: Then we go to the lab and get an overview of the task that need to be done that day. We start with our work right away. When there is time, we get a coffee *laughs*. The tasks vary a bit between the different shifts. For example, during the late shift there is the closing of shipping for the day.
However, since we have customers from all over Europe who order oligos, and they seem to have all kinds of different schedules, there are always new orders coming in.
Anita: The department works 24 hours, including Saturdays, and there is quite a high workload in all shifts.

What motivates you at work?
Linda: The interpersonal relationships motivate me. I have friends at work and it is important to me to see them and talk to them. Also, our supervisor is a great guy and in case there is an issue I have the feeling that I can speak freely with him about it.
Anita: I work part-time, three days a week in the morning shift. I am mainly housewife and mother. I really love to come to work and I get along with my colleagues very well. I can't complain. I am happy. My motivation is the change, I would say.
It might sound cheesy, but we support each other, even though the team consists of a lot of people with different personalities.
Since when do you know each other?
We got to know each other at Eurofins Genomics and we developed a friendship right away. Our children are also friends. It's great.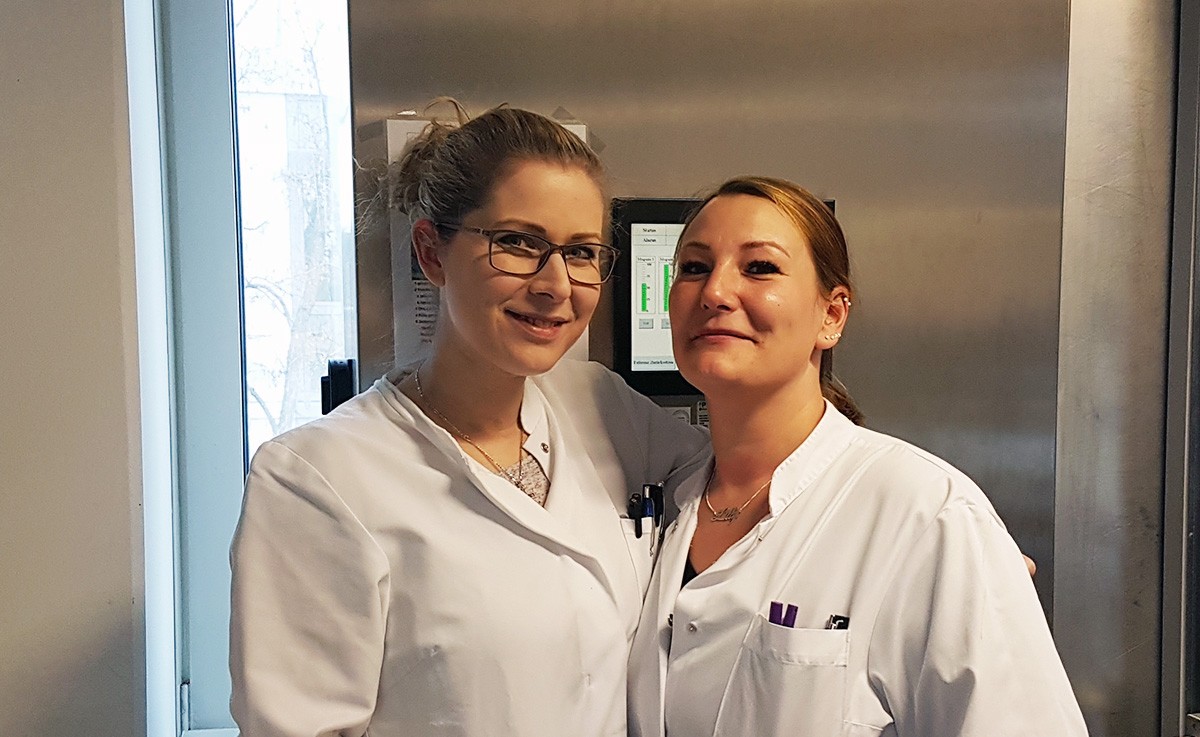 It can be stressful in the lab. How do you manage to keep your cool?
Linda: It is not always possible. But what seems to work for me is concentrating on the task at hand. After working concentrated for two, three hours at a time, I am calm. According to the motto "Grit your teeth and get to it!" It also gives me a reason to sit back in the evening and say to myself that I can do this.
Anita: For me, there is nothing worse than going to work and not having anything to do. My family is in the restaurant business and I am used to working. I think it is more tiring to do nothing than doing a lot. When I know I have accomplished and finished something, I can fall into bed – exhausted but happy.

What work advice would you give others who are working in a similar job?
Linda: Team spirit – stick together no matter what. If you work in a team, personalities will clash from time to time but you have to rise above it. It is just a part of working in a team and you need to be aware of it when you choose a job like this. Nevertheless, we are all adults and need to act accordingly. You should not be too sensitive or resentful.
Anita: I think so, too. Coherence as a team is very important. After all, it is a give and take. Linda knows certain things better and can do them better than I, and she takes over these task, whereas I do other things that suite me better. You have to work as a team.
Linda: And you have to realise what tasks need to be done. It must go without saying that you support and help each other in the team.  You do the tasks without being asked to do them!
Are there any funny aspects to your work?
Anita: Once, I think it was in 2005/06, six or seven women in the team were pregnant during the same time. All of a sudden they were all pregnant. However, people in the lab were around the same age back then. Nowadays, the colleagues in the lab are between 19 and 63 years old.
Linda: When I started I used to talk with a colleague about makeup. This was before I married and had a child. Then, after parental leave when I came back, the same colleague and I talked about back pain and what to do against it… or how great these lab shoes are that we wear. It is strange how the topics changed.

Let's get to know a little more about you. How do you spend your free time?
Linda: I have a daughter, who is two years old. That's how I spend my free time *laughs*. We are outside a lot. We go to the zoo and swimming for example. We just don't want to stay at home all the time. It can be exhausting and in the evening I am more tired than she is… this probably won't change in the next 20 years though. All in all, my free time is my family. But once a month, I meet with a friend of mine, without child and husband, and we talk.
Anita: I have two daughters, who are 10 and 13 years old, and they take most of my free time. I also like cake decorating, which is using icing, frosting or other edible elements to decorate cakes, as well as reading and spending time with my husband. We love to go to the cinema.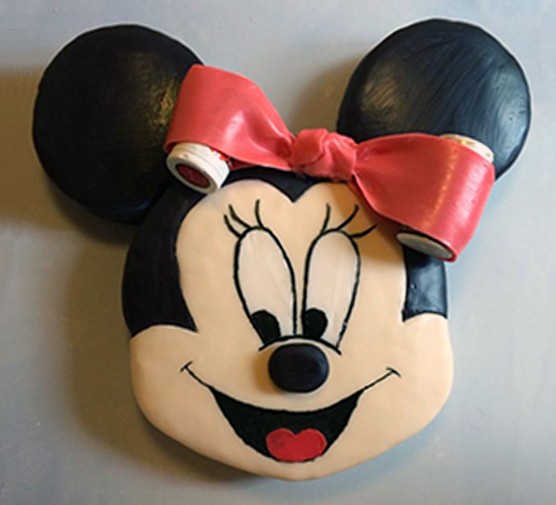 What kind of movies do you watch? Are you interested in a specific genre?
Anita: Action and comedy – "The Fast and Furious" movie series for example. For books, I rather prefer psycho thriller such as books by Karen Rose, Dan Brown, Karin Slaughter, or Wolfgang Hohlbein.

How do you start into your day? What's your morning routine?
Linda: With coffee and a cigarette. I get up early at 4:30am, when I start work at 6am, so I can have two cups of coffee. I sit on my balcony and enjoy the peace and quiet… in any weather.
Anita: For me it is black tea but not with a cigarette anymore. I get up at 4:20am and I only need 20 minutes to get ready. But I have to drive 45 minutes to work.
What books or movies do you like and would recommend to others?
Anita: I somehow only like action movies. My favourite actors are Dwayne Johnson and Jason Statham.
Linda: I like the TV-series "13 Reasons Why", "La casa de papel"… but I also have to watch a lot of "Tom and Jerry". I really enjoy it to sit with my daughter on the couch and watch "Tom and Jerry" in the evening. She is a big fan.
Anita, Linda, thank you for giving a little insight into your work and your life.
You are welcome. It has been fun.