Meet the Sanger sequencing lab expert Andreas Hinkel
Get to know Eurofins Genomics. We are introducing our experts! This edition features Andreas Hinkel, who is the Business Unit Manager Sanger sequencing. In this interview, he talks about his educational background, his responsibilities in the Sanger sequencing lab and vision for Eurofins Genomics. He also gives some interesting personal insights!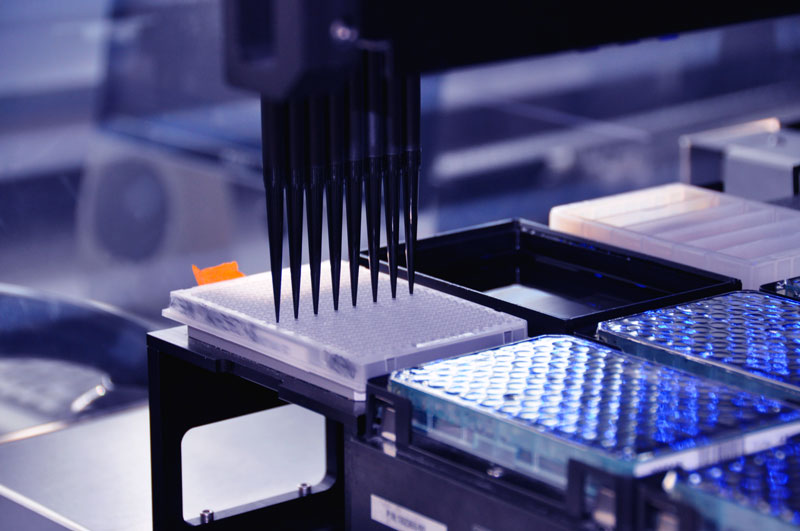 Hi Andreas, welcome to the interview.
Thank you. It's great to be here.
How long have you been working at Eurofins Genomics?
It has been 5 years now. These years have passed incredibly fast. The dynamic environment at Eurofins Genomics really makes time fly by.
What are your responsibilities at Eurofins Genomics?
I manage the Eurofins Genomics Sanger sequencing services for Europe. Here, I am responsible for two sites: the high-throughput Sanger sequencing lab in Cologne and the Sanger sequencing lab in Ebersberg, where we work on projects.
What is your educational background?
I am a business economist. During the course of my studies, I focused on ​​global supply chain management. This is also the area in which I did my master's degree. Then I worked for an American company in various departments for about 10 years. First, I started in purchasing and supplier development, and then became a supply chain manager. After that, I switched to the production department, where I managed a facility that produced products for the automotive and aerospace industries, among other things. After that, I worked as business unit manager for the group for 3 years.
It's fulfilling to be part of a success story that has been continuing for 32 years.
How did you join Eurofins Genomics?
The position of business unit manager at Eurofins Genomics came up and I wanted to try something new; gain some experience in other areas. Eurofins Genomics as a company sounded very exciting to me. In fact, a high-throughput Sanger sequencing lab is not very different from the high-throughput production of moulded parts.

That sounds like a very successful career. What drives you? What is your motivation?
What drives me out of bed in the morning is the feeling of being part of something bigger – something that can make a difference in the world. Through our Sanger sequencing services, we contribute to advancements in industry and research, be it on the subject of diagnostics, development of therapeutics, forensics, etc. What we do at Eurofins Genomics helps make the world a little better, and it is also extremely exciting and cool. It's fulfilling to be part of a success story that has been continuing for almost 32 years now. Maybe it sounds a bit cheesy but that's what drives me.
What ​​responsibilities do you have as Sanger sequencing business unit manager?
I am responsible for the entire Sanger sequencing division. I make sure that we deliver high-quality services on time! I am also responsible for finding solutions for our customers, reducing the turnaround times, i.e. reducing the time from sample submission to delivering sequencing results, and increasing the read length. All in all, I ensure that we deliver what our customers expect from us.
Funnily enough, I was told from the beginning that Sanger sequencing is dead and that NGS is on the rise to take the place of Sanger sequencing. However, we manage to continuously grow in the area of ​Sanger sequencing. It is rather that Sanger sequencing and NGS complement each other.
Lean management means continuous improvement. The framework, the external requirements are constantly changing and we have to adapt accordingly.
How important is lean management for your work and for Sanger sequencing processes?
For me, lean management plays a crucial role in an extremely large number of areas. It starts with me saying that we need a FIFO for the milk at home. FIFO stand for first in, first out.
Since our competition is very strong and Sanger sequencing is used in a very advanced step of the product's life cycle, costs and speed play a major role. In order to reduce both, various types of "waste" need to be eliminated from the process. By concentrating on the remaining core processes, we can create capacities for further growth and simultaneously become faster.
Applying the lean management philosophy also allows us to use the intellectual abilities and the knowledge of our employees in such a way that we move forward instead of creating something that does not add value. That's why I believe lean management is extremely important in all areas. Our goal is to get a little better every day and the lean philosophy helps us a lot here.
The process of lean management does not seem to come to an end.
That's correct. Lean management means continuous improvement. The framework, the external requirements are constantly changing and we have to adapt accordingly. When we reach the status quo we look where we can still make improvements.

Image: Laboratory before and after implementing lean management principles.
What do you think is the future for Sanger sequencing? What is your vision for Sanger sequencing at Eurofins Genomics?
I think our Sanger sequencing services will play a major role in diagnostics in the future, due to the high speed and capacities we can provide. Especially in the overnight business I see a massive growth. After all, overnight Sanger sequencing is already the new standard.
With our fast turnaround times we can also keep pace with the requirements of the analytics field and further develop here.
Furthermore, I imagine that we could get involved in the fields of renewable energies, sustainability and environmental protection. The pressing questions of how we can produce sustainably, make better use of and save energy is more crucial and important than ever.
Our efficient logistics solutions are crucial for fast delivery of our customers' Sanger sequencing results.
Let's talk about the Sanger sequencing process. Could you describe the process in a high-throughput lab?
Of course. It begins with the sample submission by the customers. They either place their samples in our Dropboxes or send them directly. We have an extensive network of Dropboxes as part of our logistics solution in Europe and these are highly important due to the enormous amount of samples we receive. Imagine this: every hour that a sample arrives earlier at our facility is an hour that the customer will receive his or her results earlier. So, our efficient logistics solutions are crucial.
The samples are mostly DNA, PCR products and plasmids in tubes or plates that are already labelled with unique identifier barcodes. As soon as they arrive they are pre-sorted, prioritised and accepted via our LIMS (laboratory information management system).
Depending on the selected Sanger sequencing service, there are premixed samples, samples with enclosed primers, or samples where the customer chose a standard primer from our web shop.
The DNA, primer and master mix are mixed together via a liquid handler or manually (depending on the service), followed by a PCR on a thermal cycler. Before the sequencing, the samples are purified in order to remove the remaining master mix. We use a variety of purification methods, such as enzymatic ones.
The next step is to load the samples on an ABI machine for the actual sequencing. Before the data is delivered to the customers, it goes through post-processing. That means the quality of the data is checked. If the quality and parameters are not up to our standards, we repeat the sequencing. Finally, the sequencing data is uploaded to our web shop where our customers can download it.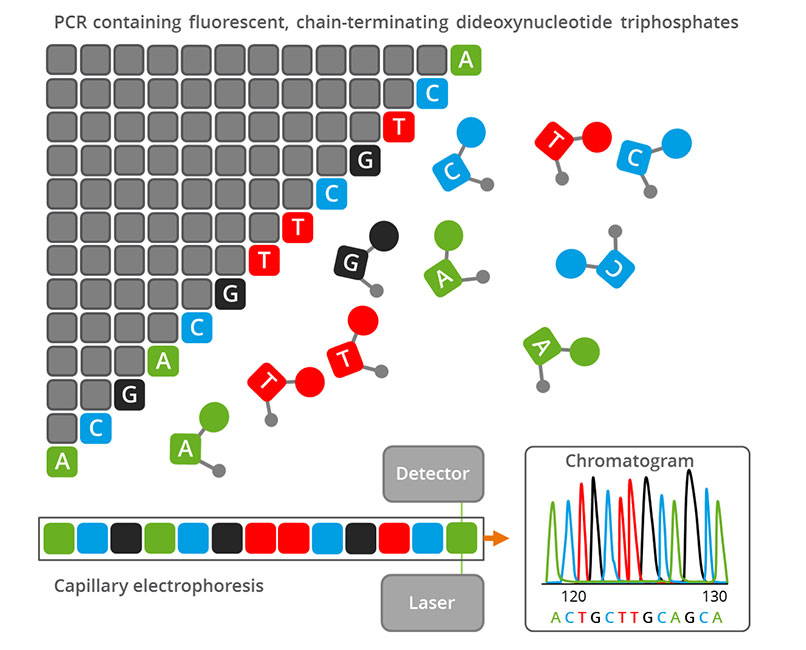 Image: Schematic depiction of the Sanger sequencing process.
Speaking of quality control, what is done to ensure the highest quality of Sanger sequencing for our customers?
We utilise a relatively high degree of automation for the process and also run internal quality controls for the sequencing. The internal quality controls ensure that the sequencing run was successful and worked well. With this internal quality controls, we know exactly what the result should look like.
We also perform preventive maintenance measures for all of our robotic liquid handlers, pipettes and so on. In fact, the maintenance intervals for our robots are around four times more frequent than the manufacturer indicates! We really focus on continuously keeping the quality very high.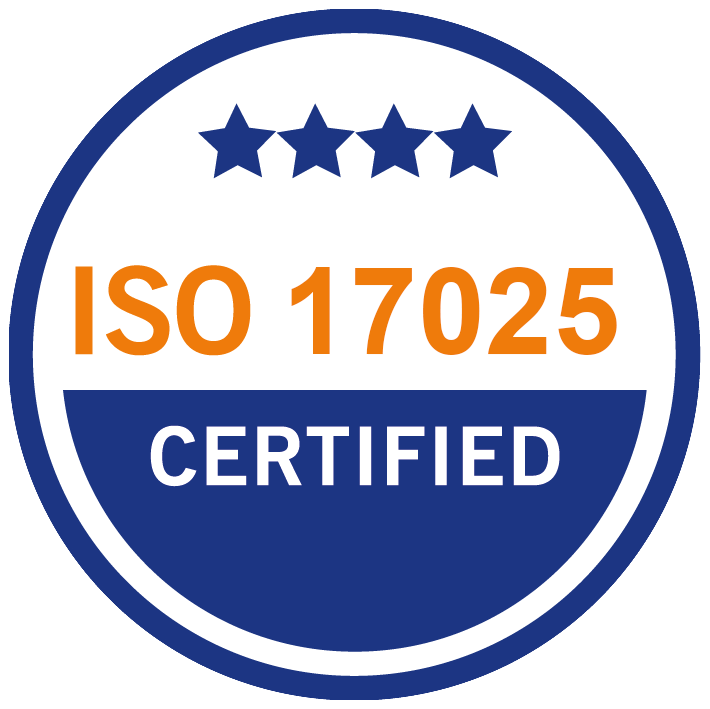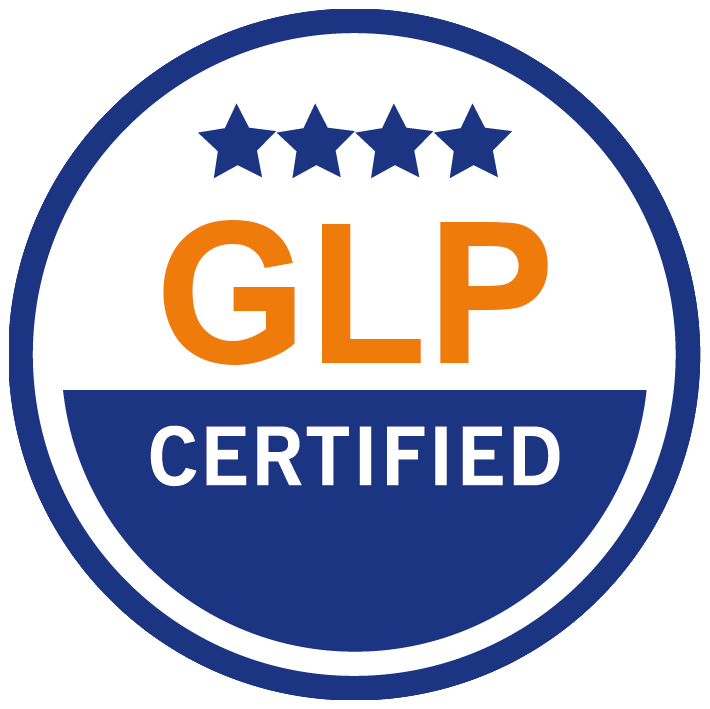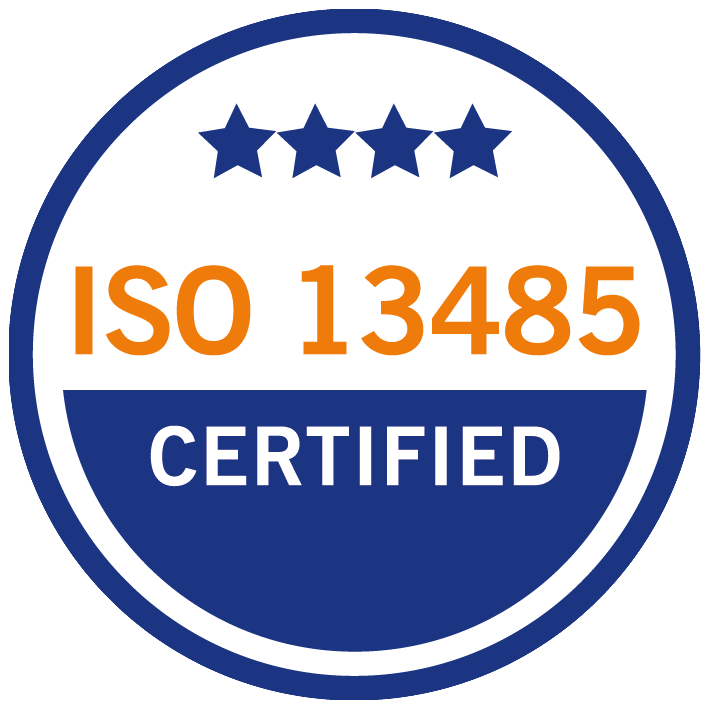 A lot of work can lead to a lot of stress. How do you manage to keep calm in stressful situations at work?
For me it is very, very important to create transparency. Before I make any decisions, I collect data about the situation. Then I try to structure the individual topics of the problem, prioritise them and work through them.
On the other hand, it is important to make decisions and to stand by them. The rest comes with experience. With time and practice, you will better understand how to classify situations.
I also understood that Eurofins Genomics doesn't need superheroes, and I don't need to play the hero. There are many bright minds in my team that I can rely on. They are experienced and highly-trained. Together, we have always found a solution. We are the genomics experts for a reason.
At Eurofins Genomics, we have a very collegial and partnership-based approach between the individual business units. We are here for each other. It is a great working environment.
What advice would you give to someone in a position similar to yours?
Communication and transparency. It is important to build up a team and to encourage and promote the employees in such a way that they are better at what they do than you are… that they have their individual areas of ​​expertise. This allows the team to manoeuvre even the strongest storms.
I also think it is important to give your employees the feeling of security and to create an environment in which everybody can develop a passion for what they do. They need to feel comfortable and know that they can rely on their colleagues. Thereby, they will experience work as something positive rather than stressful. And this allows them to be more enthusiastic about their work. The feeling of security is very important I think.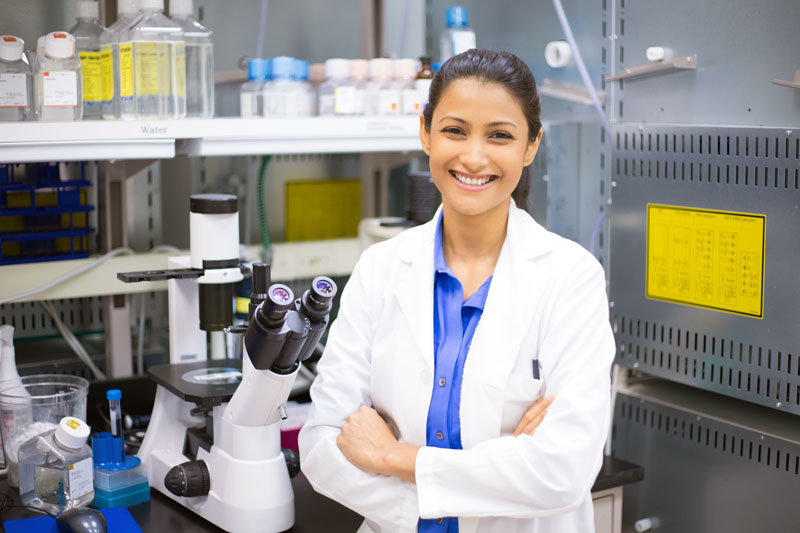 The beginning of the day can have a profound effect on the rest of the day. How do you start into the day?
My alarm goes off at 4:45 a.m. First thing I do is make myself a cup of coffee. When I'm not in the lab myself, I call the lab at 5 or 5:15 a.m. and ask how the night went, if there were any issues, and so on. I need that in the morning to get a feeling for the day.
Most of the time, I do some exercise between 5:45 a.m. and 6:30 a.m. At this time, my family is still asleep and I have time for myself.
I need 25 to 30 minutes of exercise in the morning.
What are you doing there?
A little CrossFit. Pull-ups, working with my own body weight, sometimes I go running. I need 25 to 30 minutes of exercise. I do this in the morning because I know that I won't be able to do it during the day or evening. My aim is to stay fit and do something for my cardiovascular system.
After sports, I spend time with my children. At 7:30 a.m. I am off to the office. This is the ideal morning. However, there were also times where I drove straight to the office at 4 a.m. When things get tough, the morning routine looks very different. Get up, have a coffee, shower and go to work.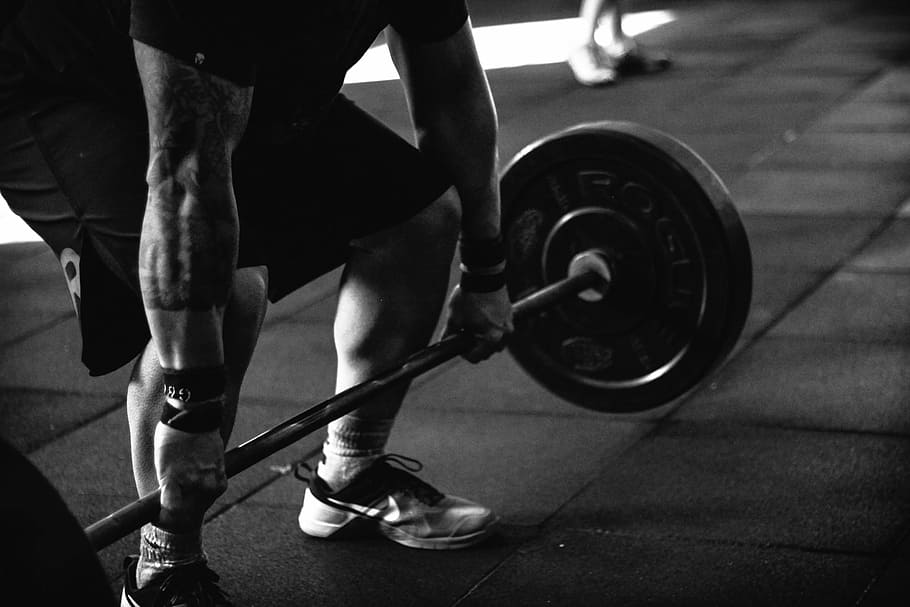 What do you do in your free time?
At the moment I do a lot with my children. We go for walks at the Rhine and hiking in the Siebengebirge. We build a lot of things with wood in the back of our garden, too. Other than that, I like old cars and I'm starting to build one. It's a Ford Capri Injection built in '82, a classic car with checkered seats.
In the past, I used to do a lot of martial arts and now I do a little bit by myself. I started judo when I was 6. When I was 13, I switched to Hapkido. At 16 I started practicing Muay Thai until I was 24. Now I just do some training on the punching bag. However, when the pandemic allows for it I plan to start Brazilian Jiu-Jitsu. Fighting on the ground is something I'm still missing.
I always try to learn something new. New processes and new movements to challenge the brain and of course the body.
Which books would you recommend?
I read about one to two novels a year, but otherwise I mostly read business books. Right now I'm reading "Range" by David Epstein. It is about being a generalist and getting a feeling for many areas before you commit yourself and specialise in a specific area. Compare Tiger Woods to Roger Federer. Tiger Woods already played on the golf course when he was 4 years old. But Roger Federer started with football and other sports. Only later he realised that tennis was his thing.
The second book I read is called the "Infinity Game" by Simon Sinek. It is about changing the mind-set in a company. Goals shouldn't be set too narrowly. It's very exciting, but I have not read enough of the book yet to say more about it.
Thank you for taking the time for this interview.
Thank you. I enjoyed it.