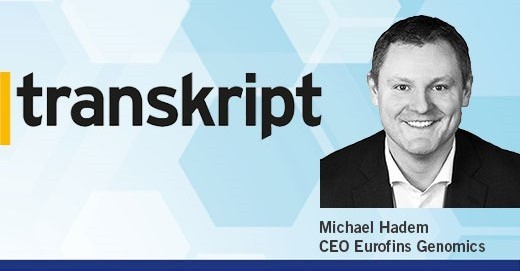 After the acquisition of GATC by Eurofins in the middle of 2017, the integration of both companies was tackled immediately. At the beginning, the two distinct company cultures bounced against each other but it was managed to set a unified course very quickly, keeping the best of both cultures. "Thus far, 70 % of the integration is already completed", says Michael Hadem. The focus of this process is on combining the output orientation and entrepreneurial thinking of Eurofins with the innovational strength of GATC.
The successful merger of both companies' sales teams represents an important milestone for the integration process as it creates a single contact for our customers. The next major step will be a joint web portal where the complete service portfolio will be available for purchase. Stay tuned for coming announcements!
On the production side, the merger of Eurofins and GATC resulted in the world's biggest facility for Sanger Sequencing, located in Cologne, Germany. This major city is the European hub of the logistics company UPS that is a crucial partner and enables us to analyse our customer's sequencing samples overnight. Quick Sanger Sequencing sample processing and fast delivery of results combined with an unbeatable cost-effectiveness for this service form the basis of one of our major goals: Providing a service that leaves no economic reason for anybody who is using Sanger sequencing to run an in-house facility!
Another important topic of the interview is the future of Next Generation Sequencing services after the merger. Michael Hadem explains: "Eurofins always concentrated on large individual projects, as they are requested by pharma partners, whereas GATC standardised the processes to a degree that many small academic projects yielded a profit. Now, we cover the whole range.
He also emphasises that the innovational character of GATC will be continued and that the R&D team under Tobias Paprotka will be strengthened. The performance-oriented team of specialists constantly searches for ways to further reduce the turnaround time for all services to benefit our customers.
The entire interview is published in "transkript" issue 3.2018.